HOSTED BY: https://fatmtnbike.com
TODAY'S RIDE
The top tubeless DT Swiss CRC carbon cyclocross racing wheel family gets a solid modern update – moving from a single low-profile rim to either 35mm or 45mm deep aero-optimized rims developed for the tough life of cross racing. Pick a shallower wheelset for tighter or more technical races, or the deeper wheels for tracks with long straightaways, deep sand, or even heavy mud…
DT Swiss CRC 1400 Spline carbon cyclocross racing wheels
c. DT Swiss, photos by Kifcat
While many pros remain tubular holdouts, the majority of privateer CX racers around the world have made the tubeless transition, where they can change tires depending on race day conditions while still running super low pressure. So DT Swiss has given their workhorse CRC (carbon race cross) wheelset a significant upgrade: the choice of two deeper & much more aero rim profiles, improved stiffness, upgraded hub internals, and still close to the lightweight of DT#s top-tier tubulars.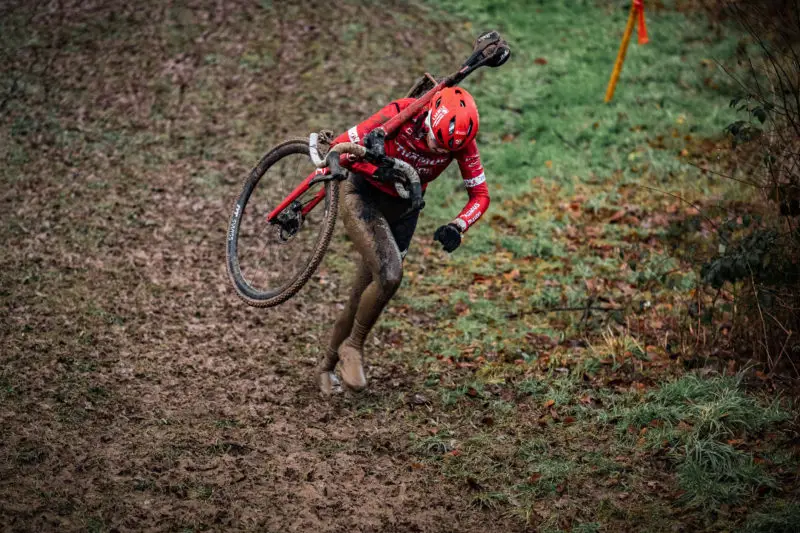 More aerodynamic rims for cross almost seem like a silly idea – how fast are you really going around a muddy CX track after all? – but serious cross racers have often preferred deep aero rim profiles for the ability to cut through deep mud & sand, plus their generally improved stiffness. Not to mention all the examples we've seen of aero gains, even at lower average speeds.
And now that DT was able to make the new rims ~50-90% deeper while only adding 26-77g in total overall, more aero just made more sense!
Tech details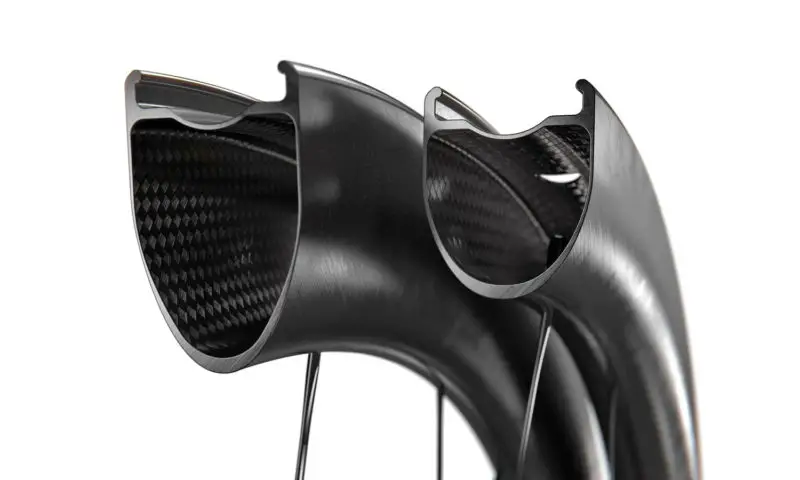 Both new DT Swiss CRC 1400 wheelsets feature new wide carbon rims optimized for cyclocross racing and specifically those classic 33mm tires. That means a hooked tubeless bead and a 22mm internal rim width that offers support and good tire volume, without pushing you over the UCI commissaire's strict tire width limits… in most cases.
The new tubeless CRC wheels come in blunt-nosed aero profiles of 35mm or 45mm depth – up from just 24mm for the previous model that was wider than it was deep. But surprisingly, DT Swiss was able to keep the CX-ready wheels light even with the much deeper aero cross rims.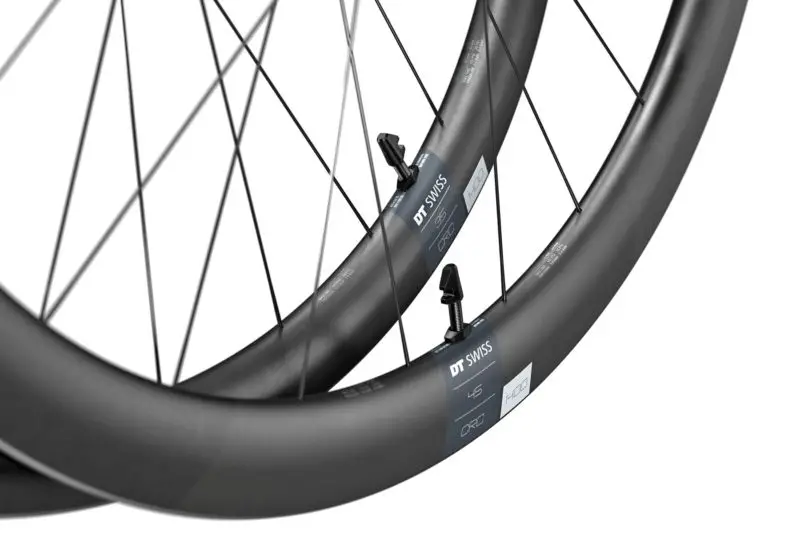 The new mid-depth CRC 1400 35 weighs a claimed 1415g for the pair (647/768g front & rear) for only 26g more than the old shallow wheels. The even deeper new CRC 1400 45 is less than fifty grams more at a claimed 1466g for the set (673/793g f/r).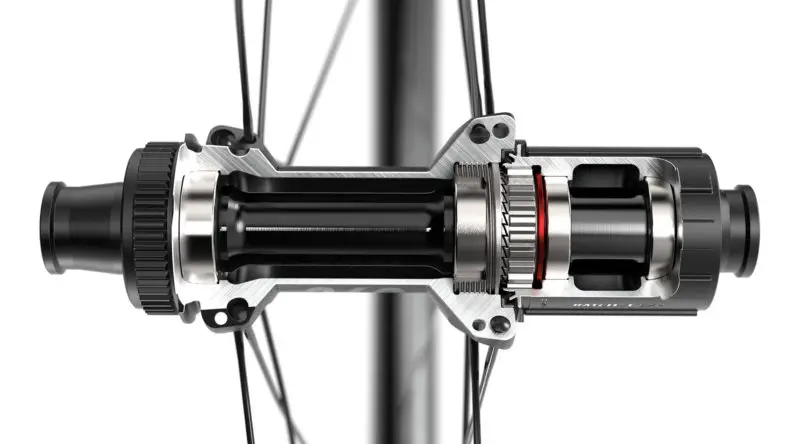 The wheels also get upgraded to DT's latest 36T Ratchet EXP tech with wider bearing spacing & simplified internals, now built around the latest generation 12mm thru-axle centerlock disc brake 240 hubs with 24 straight-pull Aerolite & Aerocomp bladed spokes laced 2x with ProLock hidden aluminum nipples. Sure, that means you would have to pull the (factory-installed) tubeless tape if you need to replace broken spokes, but at least you don't have tires glued on!
DT CRC 1400 wheels – Pricing, availability & options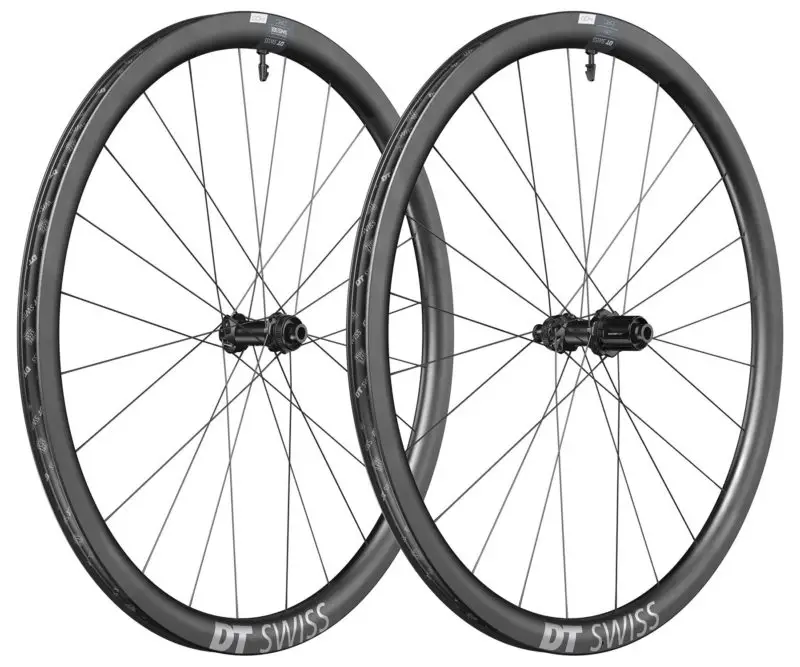 DT Swiss CRC 1400 SPLINE 35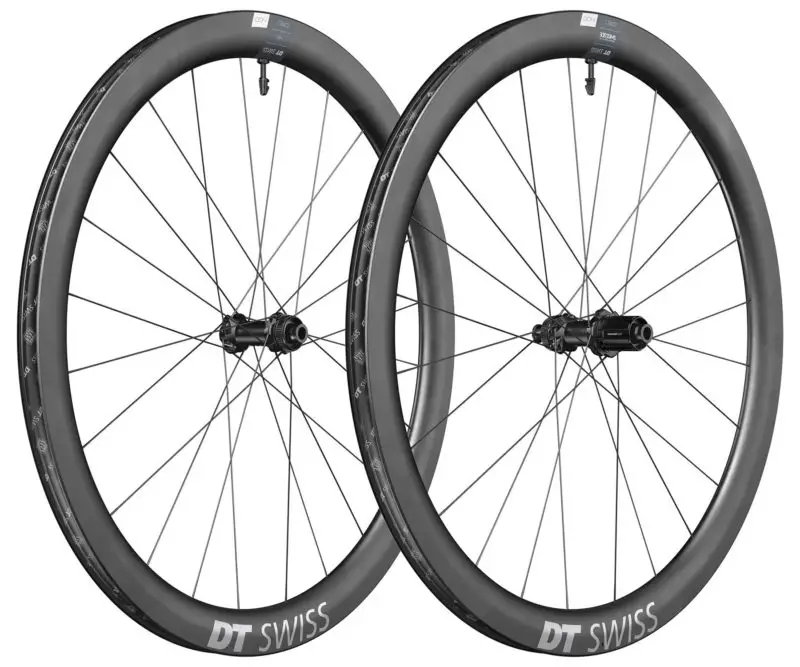 DT Swiss CRC 1400 SPLINE 45

The CRC 1400 wheels are available now in both 35mm & 45mm depths, sitting in between the tubular-only 1100 series carbon wheels and the heavier but more affordable CR 1400 wheels with alloy rims. Both sizes are sold separately front & rear so you can mix and match if you want, retailing for $2400 / 2050€ for a pair ($1008/861€ front + $1392/1189€ rear). The wheels all come pre-taped for tubeless with valves. Rear wheels are sold with either Shimano HG11 or SRAM XDR freehubs, but use new 240 bodies so Campy & Campy N3W are also available separately.

DTSwiss.com

The post Upgraded DT Swiss Tubeless Carbon CRC Cross Wheels are Lightweight & More Aero appeared first on Bikerumor.

By: Cory Benson
Title: Upgraded DT Swiss Tubeless Carbon CRC Cross Wheels are Lightweight & More Aero
Sourced From: bikerumor.com/dt-swiss-crc-1400-spline-35-45-tubeless-carbon-cyclocross-racing-wheels/
Published Date: Thu, 30 Mar 2023 14:00:00 +0000








___________________