HOSTED BY: https://fatmtnbike.com
TODAY'S RIDE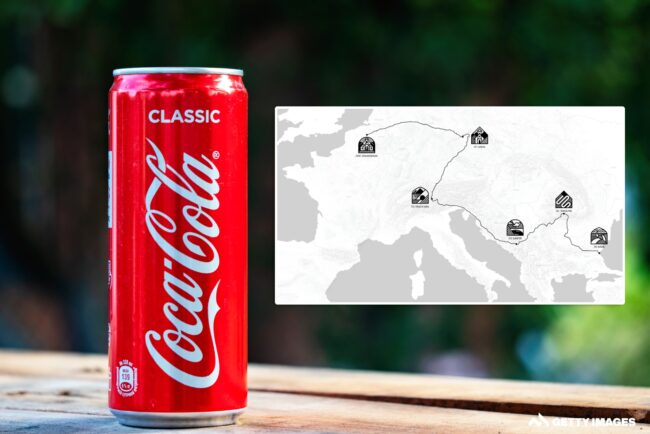 The can of coke that almost ruined the Transcontinental Race 2022
The Transcontinental Race, 4,000km-long from Belgium to Bulgaria, over famous climbs like the Passo di Gavia, won in a total time of 9 days and 14 hours, was almost ruined by the purchase of a €1 can of Coca-Cola.
Almost ruined for the winner, that is. The event, where riders have to combine sturdy legs, canny route-planning and careful management of sleeping and eating enough, is not all about finishing first, but finishing at all.
241 riders set off from the Flandrian city of Geraardsbergen at 10pm on Sunday July 24, hours after the Tour de France Hommes had drawn to a close, for a race equal in awe and adventure.
An early leader of the race was Daniel Jacobus Marsmans, riding the race on a time trial bike and covering 330km in the first nine hours, at one point averaging over 50km/h.
"I like to start fast, always, and look at the guys in front, to see how long I can keep up," Marsmans told Transcontinental, who meticulously and beautiful documented their race in a series of daily race reports. "I like to do this in all my races – it's just fun! You're doing this for fun. Early on, you are still close to each other and you can get on each other's back and get them annoyed. I know I can recover from that quite easily. The fun part of the race is the first five hours, and then it is … long!"
The riders make their way from Belgium through four checkpoints, or CPs, receiving a stamp on their 'brevet card' at each before the finish line on the coast of Bulgaria in Burgas. There are sections of road participants must ride as part of an official route, each part selected in order to give riders a specific "puzzle" to solve. But in between riders can plot their own way across the continent.
Riding unsupported over such great distances inevitably brings untold issues that arrive in a multitude of different soul-sapping ways for each of the competitors.
View this post on Instagram
On his approach to CP1, Christoph Strasser, an ultra-endurance legend who holds the 24-hour and RAAM records, was forced to sit by the side of the road and watch a YouTube video to learn how to fix his broken SRAM battery. Ulrich Bathalmoes, another rider tipped for potential victory, started to feel pain in his knee and was struggling to stay positive. By CP2 he described the pain as feeling "like someone pushing an old rusty knife into it."
Most alarming was defending champion Fiona Kolbinger's experience. Victorious the last time the race was able to be held pre-pandemic in 2019, the ultra-endurance athlete/medical doctor slept in a Czech skatepark overnight and woke to find her tracker and wallet had been stolen. Thankfully, her wallet was recovered at a local police station and organisers were able to verify Kolbinger's route to keep her in the race.
While Bathalmoes was part of a leading quartet only minutes apart from each other on the road, Strasser was quietly moving himself up after a conservative start, from 9th at CP1 in Krupka, Czech Republic, to 6th at CP2 at the Passo di Gavia.
"I am doing as well as I hoped and not destroying myself, starting a little bit slower and now increasing in speed," Strasser said at CP2. "The first three guys are completely crazy. I don't think I will catch them unless they slow down. I am not sure if they can keep their speed because they do not sleep a lot. If they slow down, I will be there; if they do not, no one will catch them."
While passing through Italy, Strasser had taken a power nap in a field while the sun was rising and awoke to a punctured tyre as his bike lay in the grass. It took him 40 minutes at a local bike shop to buy a new tube from the manager who is said to have seemed more interested in chatting to every customer who entered the shop than running his business efficiently.
"I was on the bike angry," Strasser said. "Pushing hard and actually, I had a good day [in the end]".
Riders battled on behind, some racing for 22 hours to make time cuts at each checkpoint, others looping back on themselves after missing sections of the course they have to cover in order for their result to not be scratched.
By CP3 at the Durmitor massif in northwestern Montenegro, 7.5 days and 3,500 kilometres had passed. However, there was only 5km separating the front three of Strasser, Bathalmoes and Adam Bialek on the Transalpina Pass. Bathalmoes was still struggling, starting to ride with one just one leg to give his injured one a rest.
But before that, disaster had almost struck. Not anything to put any riders themsleves in mortal danger, but their results were on the line.
After 3,500 kilometres of racing, Strasser and Bathalmoes saw each other for the first time at a shop in the Romanian town of Novaci just before tackling the Transalpina Pass.
They had both already restocked and refueled, yet wanted to take a moment to celebrate what they were undertaking and their achievements thus far.
They decided to have a can of coke together. The only problem was that Bathalmoes bank card wasn't working, so Strasser gave him €1 for his coke.
View this post on Instagram
One of the most important rules of unsupported racing is that riders must receive "no outside support by third parties or other racers".
Both riders set off after enjoying their drinks, Strasser eventually crossing the line first in a time of 9 days, 14 hours and 0 minutes. Meanwhile, Bathalmoes eventually finished in sixth. Having damaged his rim on the 45km of gravel, Bathalmoes was forced to walk, using foil blankets as leg warmers to keep the cold at bay. He also had to deal with animals crossing in the road and a cancelled ferry that left him at the port to cross the Danube until the morning.
"To do good in these kind of races, you always need a bit of luck – looks like this time I don't have it," he said at the finish.
But once both riders had arrived in Burgas, celebrations were on hold until results could be verified, and the Coke incident discussed.
Evidence was taken from both competitors.
"I did not help Ulrich solve a problem, I just wanted to have sportsmanship," Strasser said. "Being fair off the bike, and racing hard on the bike. People were discussing. Race directors were alerted. I had no bad intention, did not realise that this was close to a rule violation and did not report to the race officials in time. After the race we had a discussion with race director Anna Haslock and coordinator David Ayre to clarify things."
The result was that Strasser's victory stood. Krystian Jakubek was second, almost eight hours slower, with Adam Bialek less than an hour behind him in third.
"While in essence this is outside assistance by a fellow rider and therefore contrary to Rule 2, it is also a human moment between two riders who wanted to recognise each other's success on the Race so far," race organisers explained in their deliberation.
"The Transcontinental Race Manual refers to such incidents as 'doing something cheeky' – a lapse in judgement or lack of focus on the rules that results in little or no impact on the Race as a whole. If this incident had been reported to the Race organisers at the time, it would have been easily and swiftly resolved as such.
"Now that Ulrich has presented evidence in the form of credit card statements to prove he had very recently purchased a substantial resupply and was therefore not in need of the €1 drink, we are satisfied that we have resolved this issue appropriately and respectfully with the riders in person to ensure a conclusion that both protects the integrity of this race for all TCRNo8 riders, and the race in general for future riders."
In fifth was Pawel Pulawski, who arrived with flowers and a cake for his wife for her birthday. Unfortunately, fifth fastest hadn't been quick enough, he was 30 minutes late for his wife's special day.
Soon, Fiona Kolbinger also finished, the fastest woman and eighth overall in a time of 10 days, 13 hours and 44 minutes. She didn't stick around for the finishers party on day 15, she was already back at home, working in the emergency room.
Accolades are given to the winning riders and all of those who have finished. An important prize is the maglia nera, given to the last rider to arrive before the end of the party. Frank Proud rocked up to the hotel in Burgas at 11:02pm.
View this post on Instagram
Others still on the road have until 10pm the next day to finish inside 'General Classification.' Others may choose to persist and get to the finish in their own time.

Contained within all of the competitors are uniquely compelling stories. Daniele Fonelli arrived in Bulgaria to finish the race as the only competitor riding a fixed gear bike.

"I started with this kind of bike. I don't find the attraction of gears – gears are for everyone!" he said. "With one gear, it's more challenging, and I like challenges."

There are also those who made it to Burgas but whose result will not officially count. Michel Font was told at the finish line he had missed a section of the route, taking a road parallel to the official parcours. The Venezuelan was told he would not have his brevet card stamped unless he made a 90km round trip to complete the proper course.

"The trip is already my trip, what's done is done and one stamp more or less doesn't really matter for me," Font said, not being able to bare riding even one more kilometre. "The transformation and the journey already happened and I think it's more a personal question about whether that stamp really matters to me."

Read More

By: Jonny Long
Title: The can of coke that almost ruined the Transcontinental Race 2022
Sourced From: cyclingtips.com/2022/08/the-can-of-coke-that-almost-ruined-the-transcontinental-race-2022/
Published Date: Tue, 09 Aug 2022 22:53:37 +0000








___________________