HOSTED BY: https://fatmtnbike.com
TODAY'S RIDE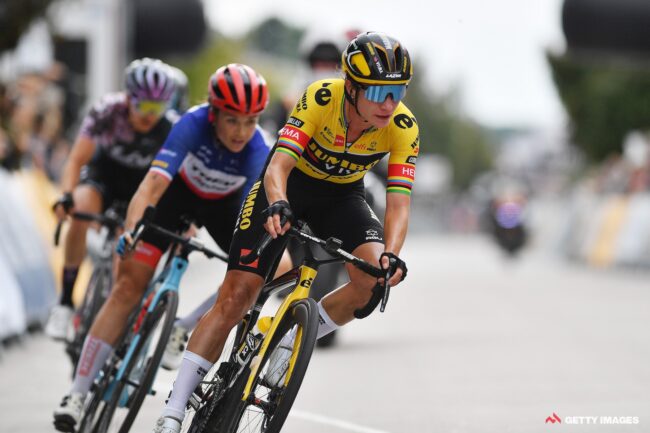 Marianne Vos disqualified for 'puppy paws' after Vårgårda victory
Marianne Vos was celebrating victory at the Postnord Vårgårda WestSweden road race when commissaires made a very late decision to disqualify the Jumbo-Visma rider for breaking the so-called 'puppy paws' rule about 13 kilometres from the finish. With Vos relegated, Trek-Segafredo's Audrey Cordon-Ragot inherited the victory.
It would be a terrible pr move for the uci to DSQ Vos for 3 seconds of puppy paws, but technically they should do it. #VargardaWWT pic.twitter.com/NB1l1CJXLE

— Jens Dekker (@jens_dekker) August 7, 2022
The infraction came shortly after the decisive move broke clear from the speeding peloton. With the currently unbeatable Lorena Wiebes in the pack, attacks had been relentless in the late laps of the Swedish one-day race, and Vos was one of those determined to make something stick. She, Pfeiffer Georgi (DSM), Valerie Demey (Liv Racing Xstra) and Audrey Cordon-Ragot (Trek-Segafredo) eventually formed the winning move, and it was Vos who ultimately raised her arms in victory in Vårgårda.
However, there were rumblings among the most watchful eyes who had spotted Vos's momentary lapse in judgment as decades of racing instinct brought her forearms down to her bars, fingertips dangling over the front wheel: 'puppy paws', i.e. a position that was banned by the UCI last season.
Fourth victory in Vårgårda for this legend!

















@marianne_vos#VargardaWWT pic.twitter.com/eSYrDIBsGq

— UCI_WWT (@UCI_WWT) August 7, 2022
Vos had been celebrating a fourth victory at the race (she won in 2009, 2013 and 2018) with her teammates and giving post-race interviews, but all the while, the race jury was in discussion. The final decision came about 30 minutes after Vos had crossed the finish line, echoing the devastatingly late disqualification suffered by Nils Eekhoff at the U23 road world champs in Harrogate in 2019.

It once again begs the question: surely an in-race infraction can and should be dealt with before the culprit has a chance of winning?

More to come.

Read More

By: Kit Nicholson
Title: Marianne Vos disqualified for 'puppy paws' after Vårgårda victory
Sourced From: cyclingtips.com/2022/08/marianne-vos-disqualified-for-puppy-paws-after-vargarda-victory/
Published Date: Sun, 07 Aug 2022 13:28:18 +0000








___________________